---
Visiting Teacher – Phakyab Rinpoche
Please register for this event at: Illuminations.org
---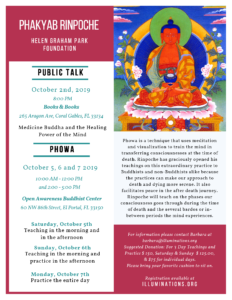 ---
---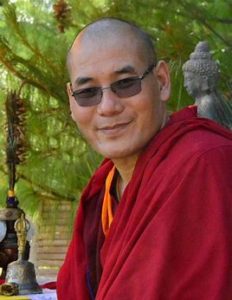 Phakyab Rinpoche (Ngawang Sungrab), is a renowned Buddhist scholar, practitioner, and healer. He was born in Kham, Tibet in 1966, ordained at the age of thirteen, and began his monastic training at Ashi Monastery. After leaving Tibet he entered Sera in Southern India where he was tutored by Ven. khenpo Lobsang Jamyang and Ven. Khensur Tinle Topgye.
---
Lama Karma Chotso Will Be Teaching in the Bahamas
Please register for this event at: SivanandaBahamas.org
---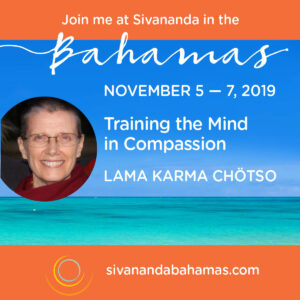 Greetings from the Sivananda Ashram in the Bahamas! In the aftermath of Hurricane Dorian, our prayers are with the people of the Bahamas and the islands of Abaco and Grand Bahama, which suffered the brunt of that massive weather event.
The ashram staff are safe and the buildings and grounds have sustained no damage. Thankfully, New Providence, Nassau, and Paradise Island were not in the direct path of the storm, and hurricane preparation and evacuation protocols were in place. For more information on how to help the people on our sister islands, please read here.
 Our message to potential guests says that the best way to contribute to the Bahamas and support the ashram's well-being right now is to make their plans to visit. This is the perfect time to be promoting your program!
---
---
Nov
5
Tue
2019
Training the Mind in Compassion – Lama Karma Chotso at Sivananda Ashram Yoga Retreat
Nov 5 @ 9:00 am – Nov 7 @ 5:00 pm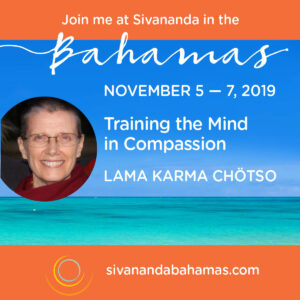 True spiritual warriors assume the responsibility of mastering their own minds. By engaging diligently in mindfulness practices, compassion begins to awaken within the practitioner … and eventually expands to include all sentient beings.
Bodhichitta means "awakening mind," and the path of the Bodhisattva is that of the awakening warrior. Buddhism, like many great spiritual paths, teaches that the development of compassion is paramount for spiritual progression.
Study with Lama Karma Chötso and learn simple trainings in mindfulness to progress more swiftly on the spiritual path. Learn why in Buddhism, having compassion for oneself and all sentient beings is the cornerstone of what makes an awakened warrior.
Offered as 2 satsangs and 2 workshops (subject to change)
Register for this Seminar at: SivanandaBahamas.org