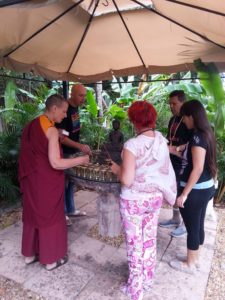 Chanting, butterlamp offerings &  prayers.
Sundays
9 a.m.
The offering of Butterlamps is a very auspicious and meritorious event.
In general, making offerings is an extremely important method for the practitioner to accumulate merit. The attainment of the state of enlightenment occurs when we have brought to full perfection our accumulation of merit. In particular, the method of offering bowls of saffron water is an excellent way of accumulating merit because it is an act of generosity in which you have no greed. You don't have any particular attachment to the water, so it is a way to offer that which we have no concept of possessing. It is also excellent to offer the butterlamps, candles or light because this act of offering this light symbolizes burning away our mental afflictions of desire, aggression, greed, jealousy, pride and so forth.
If you are just doing something ordinary but you have a lot of support, you have a lot of people behind you, you have a lot of money, you have power behind you, it is easier to accomplish your aims. It is the same thing to rely on an authentic lineage. That is the support we need to bring our practice to fruition.
More on Butterlamps