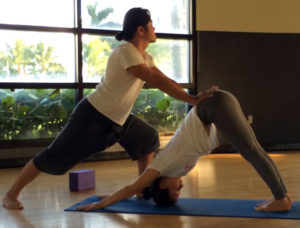 Yoga in a Sacred Place
with Wei Lin
Sundays
2 p.m.

Taught in the Shrine Room or Garden of Merit.
$20 payable to Wei Lin.
Wei was first introduced to yoga in early 2000 as a way to keep fit, physically and mentally, for his busy schedule as a massage therapist. From his very first classes with Yogis Bonnie Quiceno and Peter Barber, he was hooked! Since then, Wei practiced yoga on and off for about 14 years with different teachers in different styles such as Anusara, Ashtanga, Hot yoga, Kundalini, Sivananda, Iyengar, and Vinyasa. Having practiced in various different forms, he came to realize that all forms of yoga have the spirituality aspect in common. In 2014, he decided to go deeper into his study by taking an intensive yoga teacher training and became a certified Vinyasa yoga teacher.
"Yoga has brought me much balance, strength, knowledge, wisdom, peace, happiness, and love. And I wish it will do the same for you."
Wei Lin
954-439-4861
Licensed Massage Therapist & Yoga Instructor